Support or Donate
Nā Pali Coast ʻOhana is a U.S.501(c)3 non-profit organization and donations are fully tax deductible to the extent provided by law.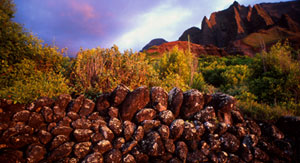 From the thousand foot spiked Pali that soar overhead to the remnants of the Hawaiians of centuries ago, everywhere you look in Nāpali is a wonder for the eyes. Learn more about our work at
Nuʻalolo Kai
. All photos courtesy of
www.napaliphoto.com
Your tax deductable gift will help us protect cultural and archaeological sites, endangered species and rare native ecosystems, eradicate invasive species, improve trails, enhance visitor services, develop park education programs, and more!
---
Donate with PayPal Giving Fund


PayPal Giving Fund will cover all fees.
---
Donate via Network for Good:
You will be taken to our donation page at networkforgood.org. Networkforgood is a non profit organization founded by the AOL Time Warner Foundation and AOL, Inc.; the Cisco Foundation and Cisco Systems, Inc.; and Yahoo! Inc. which will send your donation to Nā Pali Coast ʻOhana with a small (slightly larger than PayPal) processing fee deducted. To proceed, click the DONATE NOW button below.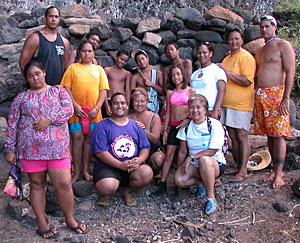 Pictured are local student volunteers. Every summer along with their teachers they devote a full day helping with clean-up and maintenance projects. The students including the Youth Conservation Corps are also engaged in learning stewardship activities to become the next generation of caretakers for our island.
You may also send a check to:
Na Pali Coast Ohana
P.O. Box 452
Lihue, HI 96766
US
---
As of June 2023 AmazonSmile has discontinued Charity Support.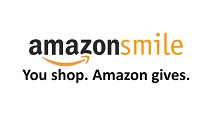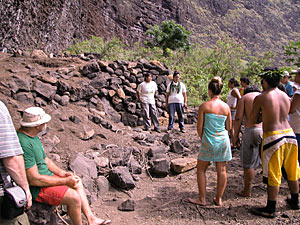 Pictured are ʻOhana members Moana Lee and Sabra Kauka, (white t-shirts)(l-r), teaching local students interpretive history about Nāpali.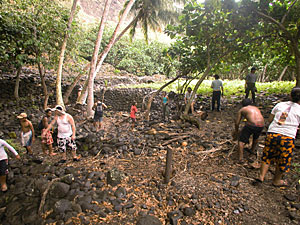 Pictured is a student clean-up project in progress. They are removing debris and overgrowth from an ancient bathing area.